The Leadership Project with Chris Paul
Wednesday, September 13, 2017, 5 p.m.
Wait Chapel
Wake Forest University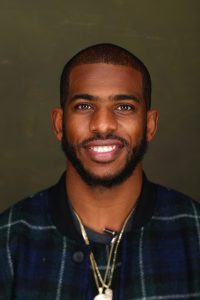 The Leadership Project is designed to engage members of the Wake Forest community with inspiring stories from leaders who represent a variety of professional paths, span a range of age groups and embrace diverse worldview.
Chris Paul, from the Class of 2007, is one of the most talented and respected players in the NBA. An admired leader among his teammates and competitors, Paul was elected and has served as president of the National Basketball Players Association since August 2013.
After leaving Wake Forest, Paul was chosen by the New Orleans Hornets as the fourth pick in the 2005 NBA draft. That led to NBA Rookie of the Year honors and the first of his nine All-Star selections. He played for the Los Angeles Clippers for six years and will spend the 2017-18 season as a Houston Rocket.
The Winston-Salem native is a four-time NBA First Team selection, a six-time All NBA Defensive First Team selection, a four-time NBA assist leader, a six-time NBA steals leader and the MVP of the 2013 All-Star game. Paul is also a two-time gold medalist, after representing the United States at the 2008 and 2012 Olympic Games.
In addition to various business pursuits and contributions on the basketball court, Paul and his family strive to have a positive impact in their community. Since its inception in 2005, the Chris Paul Family Foundation has contributed $2.5 million to support technology opportunities for kids in Winston-Salem, Los Angeles, New Orleans, Portland, New York and Oakland. The Foundation has supported the Boys & Girls Club, Shoes That Fit, Vision to Learn, the Brotherhood Crusade, Leaps n Boundz and Feed the Children.
His leadership in his community and the evidence of his spirit of Pro Humanitate have earned him the NBA Community Assist Award five times, the 2016 ESPY's "Humanitarian of the Year" award and the 2016 Mannie Jackson Human Spirit Award from the Naismith Memorial Basketball Hall of Fame. To honor his late grandfather, Paul created an endowment at Wake Forest that provides two scholarships – one athletic and one academic – to students from Forsyth County area schools.
Paul and his wife, Jada, have two small children, and are raising them on the same principles that were instilled in them: the importance of family, earning an education and being well-rounded individuals.
---
Wake Forest & Leadership
Today's students are graduating into a world that is more competitive, dynamic and uncertain than earlier generations. They will have many jobs and careers during their lifetimes. They will need to be equipped to make their own opportunities and navigate an unpredictable future. Simply put, they will have to lead.
At Wake Forest, our responsibility is to educate the whole person-mind, body and spirit – and to help students find their place in the world. It means that while at Wake, students discover where their gifts and talents lie and are challenged to explore questions deeply and to think about their own responsibility for making the world better.
Here you will see that embedded in the collegiate experience for our students is a diverse set of courses, programs and opportunities we use to develop those necessary leadership skills and capabilities.